I don't know about you, but I just love brunch! It's that perfect meal that's not too early, and not too late, where you still get to enjoy those yummy AM foods but often with a delightful afternoon twist. While the days of brunching might seem forever ago thanks to COVID and babies on your hip, that doesn't mean you can't treat yourself to some super yummy brunch recipes in your humble abode.
Keep reading to discover some tasty brunch recipes you can whip up at home for your next brunch at the house….
Everything Bagel Quiche
Not everyone is crazy about the everything bagel, but if you're a huge fan of these flavor explosion delights—then this might be the go-to brunch recipe for you. This twist on a traditional bagel is a one dish meal that's easy to make, and it'll have you enjoying some classic lox-style fresh smoked salmon, too. For the full recipe, click here.
Want our list of tips to host the perfect brunch at home? Read them here on LifeAsMama.com.
Sweet Rolls with Blueberry and Lemon
Tart matched with tang will have your mouth watering when it comes to this delicious brunch recipe. I found this recipe on Good Housekeeping and although my baking skills are not where they should be, I cannot wait to test out this fruity pastry delight. This recipe takes a total of 1 hour and 20 minutes from start to finish, but I'm certain it is worth the wait. And if the thought of making your own dough sounds exhausting or intimidating, I'm sure you can just go with a store-bought option instead to shorten your prep time significantly. For the full recipe, click here.
French Toast Casserole
I'm a huge fan of french toast, so this one is right up my alley! The best part of all, this one-pot dish can be prepared all at once. I typically reach for Texas toast when making my french toast on the stove, but this recipe is a baked dish and suggests that you use challah or brioche bread. Both are moist and delicious, so the decision is yours for the choosing. For the full recipe, go here.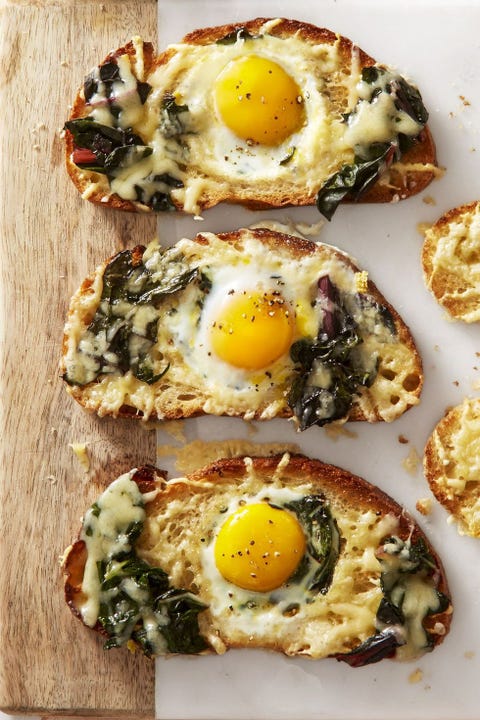 Chard and Gruyère Eggs-in-the-Hole
If you've never had the opportunity to try eggs-in-the-hole, you must! This modern twist kicks things up a notch by adding some fancy ingredients that are sure to please. In case you didn't know, the basis of this recipe is a piece of bread with an egg-sized shape whole cut out to cook your "bird" in a hole of bread. For the full recipe of this modern-day breakfast classic, go here.
Squash Egg-in-a-Hole
Cooking Light shared this recipe, and it's a great choice for those who want to avoid bread or gluten with their meal. And not only is it delicious down to the last bite, but it's super simple to make and pretty to look at! It's also a great choice for breakfast when you know squash is in season. For the full recipe, go here.
Green Eggs and Ham 'Wiches
Nothing says brunch quite like a croissant! This fun play on a Dr. Seuss favorite blends savory flavors and they're playful to serve, too. The recipe calls for thin slices of ham, so go for a premium choice like Boar's Head, or you can even substitute Canadian bacon if you want to take your sandwiches to the next level. For the full recipe, click here.
The Breslin's Ricotta Pancakes with Orange Syrup
Want to imagine you're in downtown NYC at a posh hotel while having brunch? Well, you can when you whip up these to-die-for pancakes with a boujee twist. This tasty brunch recipe from Ace Hotel's Breslin restaurant is proof that you don't need expensive ingredients to whip up a first class dish of deliciousness. Try dressing up for brunch at home and treating yourself like a true queen while enjoying these! For the full recipe, go here.
Want some brunch recipes that are perfect for spring? Check them out here on LifeAsMama.com.