The joy of a new baby cannot be explained, so when you find out your pregnant friend or family member is expecting, it's only natural to want to do something special for them! Baby showers are always a great idea because they celebrate the pregnancy and help prepare for the arrival of the little one.
Here are 7 genius ideas for baby shower gifts and how to plan the event.
The Baby Gift Registry
Everyone loves to buy something special for the new mom and dad, so why not give them some ideas?
Breastfeeding Pillow
A breastfeeding pillow can help support mommy during feeding time, both while at home but especially if they need to do some nursing in public. They come in different shapes and sizes.
Bassinet
Another great idea for a present is an adorable bassinet that will keep your friend's little one safe while she sleeps at night.
Monogrammed Blankets and Pillows
One of these gift ideas would be matching monogrammed blankets that go with their initials or name. These are not only perfect newborn gifts but also can be their baby's blanket as he/she grows older.
Monogrammed pillows are another wonderful addition along with cute stuffed animals; you could even add in personalized onesies or bibs as well!
Swaddle Blanket
Perfect for when it is time to get the little guy/girl ready for bedtime. Swaddling has been shown to reduce colic and helps babies sleep longer at night, leading to better well-being overall. Some even say they are like magic because of how quickly they help calm down a fussy baby.
A well-stocked Diaper Bag
A bag filled with diapers, wipes, lotion/creams, body wash/shampoo, and a changing pad. There's no need for multiple brands or scents of these items, so choose one that will be easy to clean up after with the baby around!
Baby Slings or Carriers
Using these products can help new moms carry babies around when they still cannot walk on their own yet – this way, parents can get things done while being hands-free! In addition, it lessens fatigue because it frees up the arms and back – just make sure that you're choosing one of good quality.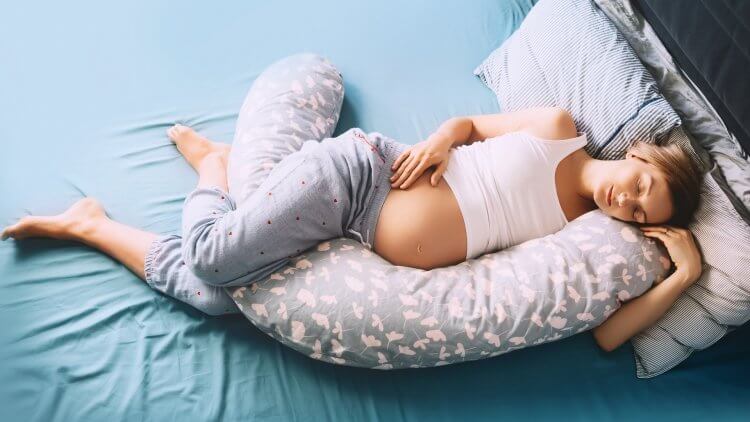 Pregnancy Pillow
During their third trimester of pregnancy, most moms have difficulty sleeping at night due to aches and pains in different body parts. So using good quality maternity support pillows comes in very handy by providing them with comfort throughout the night. Plus, it also helps promote better blood circulation, which means they will feel more energized during the day!
Side Tip: No Batteries!
If possible, avoid giving out toys that will require batteries since this means more work for your friend later on!
The Baby Shower
People often struggle to plan a baby shower and manage all the different tasks. It is easy to forget things or become overwhelmed by all the planning details that need to be completed.
It would help if you started with some tips for preparing everything in advance, from invitations to food, to make it easier.
To ensure this event goes smoothly and everyone has a good time,
Here Are Some Tips On Planning a Baby Shower
Preparing The Guest List
First of all, think about who will be attending your friend's baby shower so you can decide on an appropriate budget and theme beforehand.
Keep the baby shower small and intimate. It is best to avoid inviting a large number of people so that you can focus on your friend's needs in this exciting time.
Then, when deciding on the guest list, consider your friend's friends and family members. Many people choose not to invite relatives they may only see once a year or less during this particular time when they prepare to become parents.
Invitations are important
Be sure to send the invitations out early enough but not too late either so people can attend without having other plans during that time period. It is recommended to send the baby shower to save the dates between four to six weeks before the special event.
Food and Drinks
The next step is planning the food menu, which often takes a lot of thought and consideration as people want it to be nutritious and appealing for everyone attending.
Find out which guests have food allergies or dietary preferences since some probably won't enjoy most traditional party foods.
It's generally best to start with simple ideas that are easy on the kitchen, so you don't have any mishaps during preparation, especially if this is your first baby shower!
A food station is also something that makes for an easy way to keep your friends full during the party in between eating tasty treats. This idea includes items like chips and dips, drinks (water bottles included), snacks/finger foods from different cultures around the world, etc.
Baby Shower Theme
As far as decorations go, consider themes such as blue elephants for an elephant-themed baby shower or pink cupcakes for a girl-themed baby shower.
Keep decorations low key, so they aren't distracting during conversations but colourful enough that people feel festive while mingling around.
This will give guests a chance to mingle freely as much as possible throughout the party rather than being forced right up against one another overlong if there are only limited seating areas available.
However, if you want to keep it simple, just make sure the space is well lit and clean with enough seating so everyone can gather comfortably without feeling cramped around tables that are too small or standing in doorways while holding plates of food.
Entertainment
Make sure that you think about activities guests can participate in so they don't feel left out and bored while waiting for food or after their shower game is over.
Designing games based on pregnancy announcements, nursery room reveals, etc., are always a lot of fun (and very popular)!
If you want ideas, check Pinterest or other social networking sites to see what people have done before because it could be helpful when trying to come up with your own original idea.
Letting the mom relax while she attends to all of her guests will make sure everyone feels comfortable and welcome.
Parting Gift
Finally, thank the guests when they leave by giving them some parting gifts such as custom chocolate bars wrapped up nicely with ribbon – people love receiving personalized things!
Make it a fun event for everyone and focus on celebrating everything that makes your friend special while simultaneously getting all of her friends together before she gives birth. There is no right way to plan a party – if you can make it work, then go with whatever works best for the mum to be!